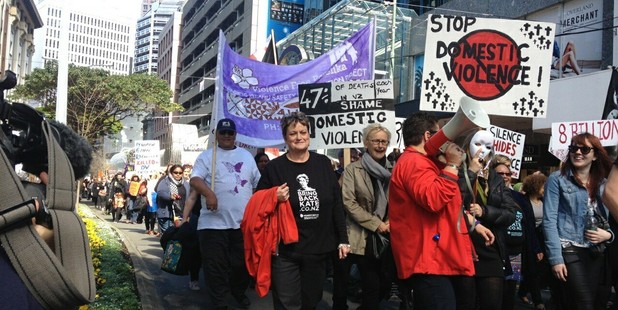 Hundreds of people gathered for a march on Parliament in Wellington today to protest against domestic violence and child abuse.
Those participating in the lunchtime march included social workers, nurses, schoolchildren, students, and men like Wellington's Dave Currie, who said a culture of machismo and domestic abuse was causing "unbelievable and silent pain" across New Zealand.
Mr Currie told APNZ violence against women was among the most pressing issues in contemporary New Zealand and politicians needed to take the issue seriously.
Also at today's march was community worker Tristanne Dunlop. She said that at her organisation, Naku Enei Tamariki - which translates to "These are our children" - she had a caseload of 22 abused and neglected kids.
Ms Dunlop said she came to Wellington to show that family violence and child abuse should not be tolerated. "We see the repercussions it has on our children," she said.
The crowd marching down Lambton Quay towards the Beehive was largely female and although Mr Dunlop said the turnout was heartening, she'd like to see more men attend.
University student Madeline Ashton said a "cultural shift" was required for New Zealand men to stamp out domestic violence and sexual abuse.
Ms Ashton said it was "embarrassing" to see Rape Crisis centres shut down for a lack of funds and Women's Refuge facilities under financial strain.
She said domestic violence, child poverty and sexual violence were important election issues to many in the crowd - and politicians should take note. "Women's issues in general are very important in my decision..."
Ms Ashton said politicians and local authorities could take practical steps to address the issue, such as funding better lighting in areas such as university campuses where women were at risk of sexually-motivated attacks.
Another protester, a nurse called Elaine who declined to give her surname, said she was "the ambulance at the bottom of the hill" who had to address the legacy of abuse. She said schools should do more to teach children violence and domestic abuse were unacceptable. "Relationships need to be taught."
The lunch time protest ended outside Parliament at about 1pm.