Roast Busters: Women chain themselves to police station in protest
7:22 PM Thursday Nov 6, 2014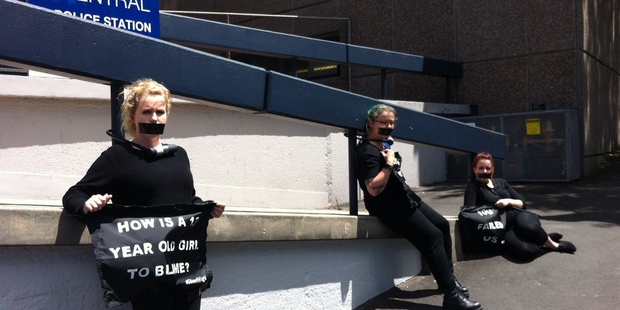 Six hours after locking themselves to Auckland central police station, protesters against the police's inability to prosecute the Roast Busters have unlocked themselves.
The three women bicycle-locked themselves to the Auckland central police station.
The women - wearing black, with their mouths taped and bicycle chains around their necks - said they would remain attached to the police station until they were "forcibly removed".
Genevieve Wilson, speaking for the three silent women, said the four of them were simply "members of the public who feel very strongly about this issue".
"Through personal experience and a general sense of justice, we feel the police and the government need to step up ... and say we are here to protect you.
"We're here to highlight that there's a lack of police accountability around their mishandling of the initial Roast Busters testimonies. We're here in solidarity with the victims themselves."
But the decision was made to end the day's action "due to a serious medical condition", Ms Wilson said.
One of the girls, Tove Partington, was last night described by Ms Wilson as being "in a fragile, but stable condition".
"Though we have had to unlock, we feel we have achieved our aim of keeping this issue in the spotlight," she said.
The three gagged women held signs that read "How is a 13-year-old girl to blame," "Police bolster rape culture, Roast Busters walk free," and "You failed us."
"We're really outraged with the police decision not to prosecute the Roast Busters," Ms Wilson said. "Rape culture is a problem around the world ... and absolutely is within the police force - we need to see a change within the public sphere, but we want police to lead that."
She said she was aware the alleged actions of the Roast Busters occurred in West Auckland and was dealt with by the Waitemata police, but chose to use the Auckland central police station as it was more prominent.
Police revealed last Wednesday they would not be charging any members of the group known as the Roast Busters, because there was not enough evidence to prosecute.
Seven teenage female victims - some who were underage - made formal complaints against five suspects. A further 25 girls declined to make formal statements, but were believed to have been victims of sexual offending.