Fast food worker: 'They refused to let me go home'
7:00 PM Monday Dec 1, 2014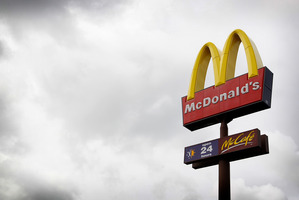 File photo / Christine Cornege
A fast food worker alleges she was forced to carry on working despite suffering broken ribs and coughing up blood in front of customers.
The incident has been described by a union as an "absolutely appalling" example of the impact zero hours contracts have on staff across the country.
Stephanie Phillips said she was admitted to hospital and immediately placed on an IV drip with "half my lung filled with blood" after working four hours at McDonald's in Orewa.
The staff member who eventually let her leave was allegedly reprimanded for disobeying orders for her to stay the full eight hour shift.
A McDonald's spokesman said neither McDonald's nor the frachisee had been contacted by the former employee or her union, Unite, regarding the alleged incident.
"We question why Unite Union has chosen to raise the alleged incident via the media, rather than directly with us.
As always, we would investigate any claims put to us."
Ms Phillips' story came to light at a Unite conference in Auckland today, in advance of a new campaign against zero hours contracts.
The union -- which represents the food service industry, casinos, call centre and security staff -- said such contracts not only risked workers' job and financial security, but also affected their personal lives and created a climate of fear within the workplace.
Staff were afraid to take sick days or turn down a shift for fear their roster would be dramatically cut the following week. Some were forced onto benefits because their work hours no longer covered the bills.
At the conference, one fast food worker stood up to say restaurant chains "ruled by fear".
Unite national director Mike Treen said such contracts were about companies holding power and control over staff.
"Because you know that as a part-time worker that you've got to beg for those shifts, you've got to suck up to management, that's the reality of life that they want to impose on those workers when there is absolutely, technically and otherwise, no reason for that.
"They can, and they should, give the vast majority of their staff secure hours."
Next year the union would launch a campaign, dedicating 2015 to "putting an end to zero hour contracts", and telling companies "no longer will they be able to treat you like some disposable commodity".
Telling her story, Ms Phillips said she had been told she was a "valued employee" who could rise to management level, but when she broke three ribs and punctured a lung she was expected to continue working.
She was given an assurance that if she needed to leave work for medical reasons she would be allowed to, she said, but that was not the case when she started her shift one day by coughing up blood.
The stand-in manager tried to cover the shift, calling the restaurant manger for permission to send her home.
"He refused to let me go home," Ms Phillips told the packed hall.
"In total I did four hours, a customer saw me cough up blood ... They solved the problem by putting me on [back room duties]."
The stand-in manager eventually sent her home, but "got into a lot of trouble" for doing so.
"I got that week off work and I was still asked to cover shifts during that week," she said.
"They were ringing me at 5.30am saying, 'can you come in and work a shift at 6am?"'
Robert Reid, national secretary of First Union, which has joined forces with Unite to campaign against zero hours contracts, described the case as "absolutely appalling", but said while it was an extreme example, it was "not irregular".
"This sort of thing happens all the time," he said.
Restaurant Brands, which operates KFC, Pizza Hut and Carl's Jr in New Zealand, said it appreciated the opportunity but would not be commenting.
WHAT ARE ZERO HOURS CONTRACTS?
Zero hours contracts are casual contracts which allow employers to hire staff with no guarantee of work. Some contracts will have a minimum number of hours, such as eight or 16 hours, but hours and days of work can vary dramatically from week to week. Employees work only when they are needed, often at short notice.
Employers argue this type of contract provides flexibility to staff who often do not want to work full-time hours, in industries which see a fluctuating demand for services, such as hospitality and tourism.